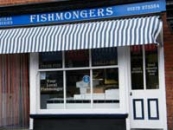 ASHTEAD FISHERIES
4 Rectory Lane
Ashtead
Surrey
England
United Kingdom
KT21 2BB
Opening Hours:
Open Tue, Thur & Fri [7.30am - 3.00pm] Wed [7.30am - 1.00pm] Sat [7.00am - 1.00pm]
General Info.
Selected and collected from Billingsgate Market four days a week, Ashtead Fisheries run by John and Carole stock an impresive selection of fish and shellfish. Where possible, the fish is line caught from day boats, the majority having been caught in the West Country. The Salmon are sea-reared and farmed in the Shetlands.
No reviews posted for this monger yet.
Specials for ASHTEAD FISHERIES