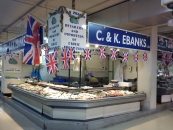 C & K EBANKS LTD (FISHMONGER)
50 Edgbaston Street
Birmingham
West Midlands
England
United Kingdom
B5 4RQ
Opening Hours:
Open Mon to Sat [9.00am - 5.30pm]
General Info.
If you are looking for out of the ordinary fresh or frozen fish for your restaurant, take away or just your evening meal, then look no further than C & K Ebanks Ltd.
Specialising in wild fish from India, Oman and the West Indies, parrot fish, snapper, barracuda and butter fish are just some of the exotic fish C & K Ebanks Ltd import.
No reviews posted for this monger yet.
Specials for C & K EBANKS LTD (FISHMONGER)