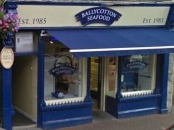 BALLYCOTTON SEAFOOD (MIDLETON)
46 Main Street
Midleton
Co Cork
Ireland
Ireland
Opening Hours:
Open Mon to Sat [9.00am - 6.00pm]
General Info.
Having their own boats, traditional smoke house and commercial kitchen means Ballycotton Seafood can offer the best of fresh fish, shell fish, quality smoked fish and artisan seafood with the very best of natural ingredients. Their fresh fish is caught daily and includes Cod, Monk, Whiting, Hake, Haddock, John Dory, and Gurnard for example. They also have exotic fish like Tuna and Bass on offer and of course premium Salmon. Ballycotton's shellfish includes crab, scallops, oysters, prawn, shrimp, and lobster and they also offer pure crab meat with no added water.
The smoked fish range at Ballycotton's Seafood includes Salmon, Haddock and Mackerel. They use oak shavings, producing smoke that is wafted over the fish resulting in finely balanced flavours.
Ballycotton also have an artisan oven ready seafood range which includes Sauces, Fisherman Pie, Seafood Gougons, Cod Gratin, Seafood Lasagne, Seafood Quiche, Stuffed Garlic Mussels, Scallop Mornay, Seafood Chowder, Seafood Medley, Salmon Tartlets, Fish Cakes, and Smoked Salmon Pate. This range changes on a daily basis as Ballycotton Seafood try out new recipes and ideas.  
No reviews posted for this monger yet.
Specials for BALLYCOTTON SEAFOOD (MIDLETON)