All I Ever Wanted  (Author Christine Hardy) AVAILABLE NOW
This is not only one family's struggle to make a living, and develop a family business, but has Sidmouth's fishing community, history and traditions woven into it.
How this remarkable family survived and re-invented itself, is an inspiration to us all.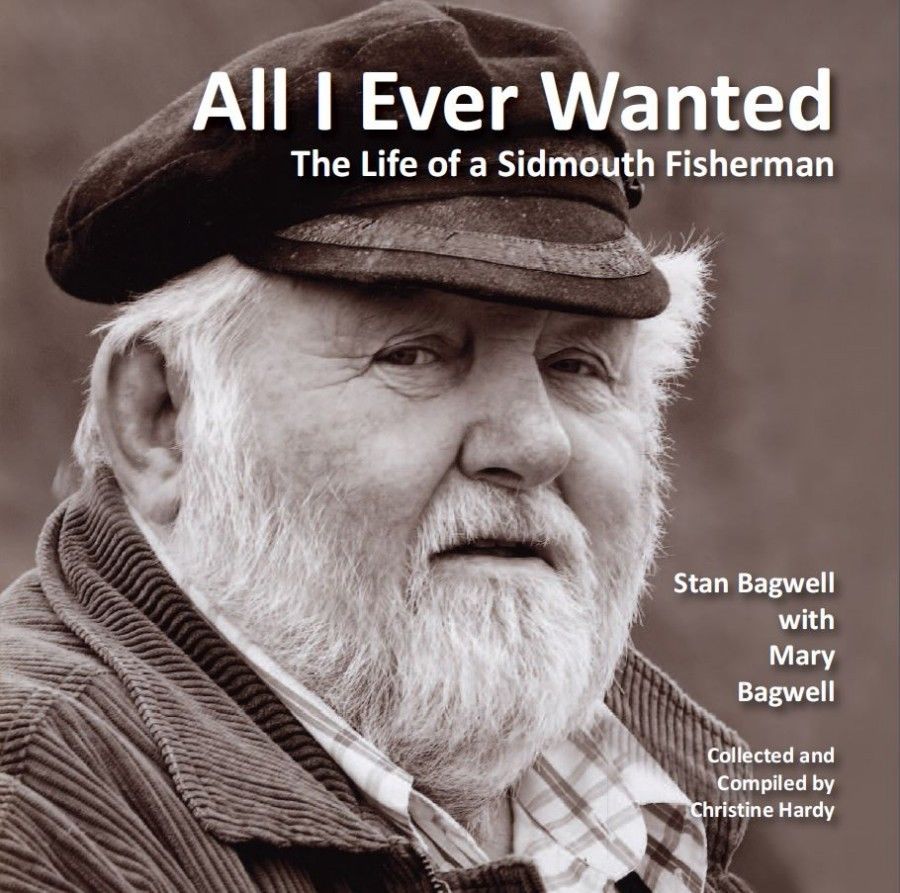 Christine Hardy first met Stan Bagwell and his family in 2002 as a customer at their fresh fish shop, Sidmouth Trawlers. She got to know Mary, Stan's wife, his daughters Lynn and Kay and his grandsons Ryan and Kieran. But there was so much more she didn't know.
When he wasn't serving in the shop Stan often chatted with Christine, as he does with many locals and friends, reminiscing about his childhood, his life at sea and the fishing business. Christine said that someone should write it all down and eighteen months later they produced this book together.
Fundraising for the Fishermen's Mission:
South West Fundraising representative from the Fishermen's Mission charity visited Sidmouth Trawlers fresh fish shop just off the esplanade at Sidmouth on 25 August to receive a cheque for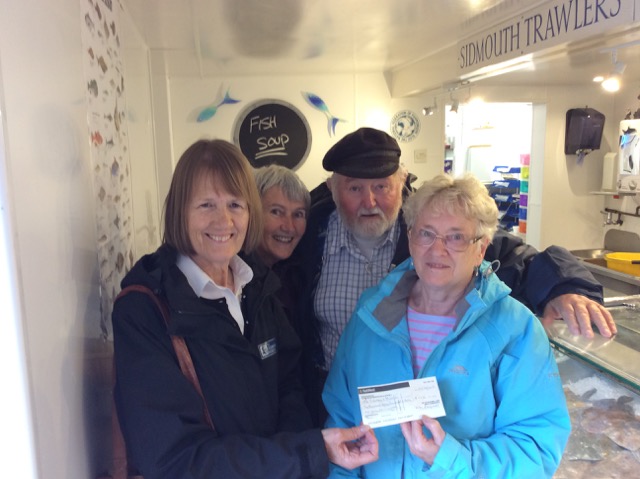 £1736.00. The money represents sales of the 120 page book 'All I Ever Wanted', charting the life of Sidmouth Fisherman Stan Bagwell which was compiled by Christine Hardy and sold to raise much needed funds for the Mission.
'All I Ever Wanted' was launched on 1st May 2015 and 500 copies were sold in just two months. A reprint should raise up to £10,000 for the Mission which supports fishermen in times of need. Gina is pictured with Stan and Mary Bagwell and Christine Hardy at the Bagwell's fresh fish shop, a business they began in the 1960's when Stan persuaded Sidmouth Town Council to allow him to sell the fish he caught to local residents in a properly constructed shop.
Stan started fishing as a boy with his father Robert in the 1940's and always wanted to buy a boat of his own and develop a successful business. The Bagwell's lost their son at sea, Ian, also a fisherman, in 1998 which was the motivation for producing the book as the Fishermen's Mission gave the family a huge amount of support at the time.
Book Synopsis: Stan Bagwell was out fishing with his father Bob as soon as he was able to climb into a boat. Born in 1938, his childhood memories tell of a Sidmouth long gone. His burning determination to earn a living at sea was thwarted by his mother who knew what a hard life it was. Aged 15, Stan started an apprenticeship with a local builder and bought his first boat. He was determined to succeed and was soon a familiar figure on Sidmouth Sea front, offering trips to visitors and selling the fish he, his father and younger brother Graham caught. He married his resourceful wife Mary and together they created Sidmouth Trawlers, which included two shops and four boats working from Sidmouth and a trawler, which fished from Brixham. When Stan and Mary's son, Ian, got his Skippers licence and daughter Kay began working in their shop, the future of Sidmouth Trawlers seemed secure.
Faced with a double tragedy in 1998, it seemed for a while that there was no future. How this remarkable family survived and re-invented itself, is an inspiration to us all.
'All I Ever Wanted' is available through the Fishermen's Mission eBay page for £12.00 and all proceeds go to the Fishermen's Mission.

If you'd like to learn more about The Fishermen's Mission welfare and emergency work, visit The Fishermen's Mission website: www.fishermensmission.org.uk
The Fishermen's Mission takes care of the families of men lost at sea. They need your help if they are to continue to offer bereaved families the financial and emotional support they need.
The Fishermen's Mission is a Registered Charity:
England & Wales No 232822 and Scotland No SC039088