Sue and Duncan Lucas of Passionate About Fish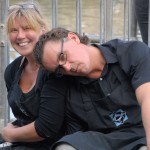 "We love fish.  It's what we do, every single day.  Between us we have over 70 years experience in the seafood industry (we both started at a very young age!)
Our vision is simply to increase people's appreciation of the wonderful seafood that is available to us all.  To show that it doesn't have to be complicated or time consuming, and that by learning how to handle good quality raw material, you need very little else to create a fantastic eating extravaganza!"
Duncan Lucas has worked in the seafood industry for over 35 years. His experience covers independent retailers and major supermarkets as well as primary and secondary processing of chilled and ready to eat seafood.
He is seriously accomplished in the art of fishmongery and is probably the most highly skilled fishmonger in the UK.  He holds many awards including the Guinness World Record for filleting halibut, and his impressive party piece is to 'pocket' a plaice in less that 60 seconds!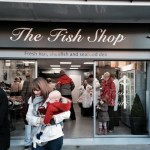 Sue Lucas has spent all her working life in the seafood industry and is so excited to be going back to her roots as a traditional fishmonger. Sue and Duncan are the proud owners of The Fish Shop Camberley, listed in Seafood Lovers Restaurant Guide, which opened in December 2014. www.passionateaboutfish.co.uk
Starting off in 1979 as a Saturday girl in her mum & dad's shop – Fish & Game – in Camberley, Sue has continued to work in the seafood industry.  From an independent retailer to Product Developer in seafood manufacturing, she is responsible for developing some of the highest quality, award winning seafood products available through the UK's leading supermarkets.
In 2010

Sue started work with Sainsbury's to deliver training to fish counter colleagues, and in 2012 was delighted to be offered the role as their Product Developer specialising in Seafood. She describes her role with Sainsbury's as 'the best job in the world' but could not resist the pull of standing in a cold, wet fish shop every day!
Sue and Duncan attend Seafood Festivals, setting up magnificent displays like the ones below, and sharing their expertise with the public. They give demonstrations of how to fillet and prepare fish and shellfish (free of charge) simply because they are Passionate About Fish and want to to increase people's appreciation of the wonderful seafood that is available to us all.
Passionate About Fish have put together a selection of tutorial videos demonstrating their fishmonger skills to increase people's appreciation of fish and to help people feel confident preparing fish themselves. Below is a tutorial by Duncan on How to To Fillet A Large Wild Bass. To see the entire collection of tutorial videos from Sue and Duncan click the Passionate About Fish Logo.